Election day this year was painful and bitter. I'm still reeling from the whole experience; from the crushing realization that sexual assault is not taken seriously by the majority of Americans; from watching a man with literally no political experience be chosen to represent my country rather than a woman who has spent nearly her entire life serving the public; and from the fact that a "need for change" has manifested in the election of the most hateful and divisive president (lower-case p) in modern history.
I'm so angry. I'm so upset. I want to scream. And I have. In the car, with my best friend, as we drove back home to take a Xanax and fall asleep on the night of the election because we couldn't bare to watch the polls. I've screamed inside the past few days, all day long. I'm certain I'll scream this weekend, after my belly is warm with the tequila I just bought. But I've realized that I haven't been screaming enough. I've realized that I have to keep screaming. It's okay if it scares you, but I'm not going to stop.
Now more than ever, women have to have a voice. We have to use our voice. We have to be LOUD. All caps loud. NO APOLOGIES. Repeat after me: "I am a woman. HEAR ME ROAR!" Or, if it feels better, go with "FUCK YOU TRUMP!!!" That one is going to do the trick for me. Go drive out to the middle of nowhere, and fucking scream. It feels good.
During this time, during the next four years, during my lifetime, I'm committing to being as loud as I can. As part of that effort, I compiled the best, most ass-kicking tees out there so I can wear my feelings…as well as scream them when I drive out to the middle of nowhere. One of my favorite means of self expression has always been what I wear. And one of the unique and wonderful things about tee shirts is they can be a medium of self expression in a way no other kind of clothing can.
. . .
This is one of my favorite feminist tees. When Pro-Hillary celebrities like Katy Perry and Will Ferrell were caught wearing it, the one-woman business went viral. A big bonus is that fifty-percent of all proceeds go towards Planned Parenthood!
Where would we be without Wildfang? This classic tee is easy to wear and to the point. It has a relaxed fit and a soft hand feel. It's available in both white and black, so it's easier to justify buying two…
Get your message across with this timely tee by Otherwild. The original "The Future Is Female" tee was designed for the first woman's bookstore in New York City in the 70s. The  empowering slogan has resurfaced recently, at a time when women's rights are especially vulnerable. Twenty-five percent of sales go towards Planned Parenthood.
I'm also feeling this Venus Tit Tee, also by Otherwild. It doesn't hurt that it comes in all kinds of lovely colors.
Oh my, I've fallen in love with UK brand Olive and Frank. They have a wide range of sassy graphic tees (my favorite kind), but this Bad Girls Club number is the one that's caught my eye. If I was rich, I'd buy one for every woman I know.
Runner up at Olive & Frank is this tee, with Girl Power embroidered on the left chest. It's available in both short sleeve and long sleeve, and guaranteed to make you happy.
I'm enamored with this tee. It has so much attitude and the graphic design is one I haven't seen before. Kudos to Etsy store CreepyGals for creating this gem!
CreepyGals also made this equally awesome Fuck Beauty Standards tee. Enough said.
Because you can never have enough girl power. This tee comes from inclusive Etsy brand Cup Of Tea. If you're going for something a little less minimal, check out their other version.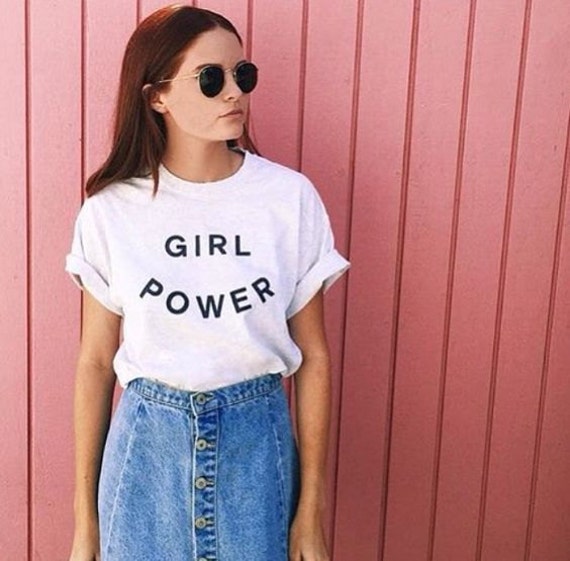 Author's note:
While researching for this piece, I came across this comment on EliteDaily.com's article 27 Girl Power Tees And Accessories For Wearing Your Feminism On Your Sleeve.
Lol.